What the Papers Say
The papers are full of all things Aston Villa, in this week`s post we look at the stories about Jack Grealish` International future, Christian Benteke`s comments about the Villa midfield and hear about a new film role for former Holte End favourite, John Carew.
Jack Grealish International Future
21/5/15 - The Birmingham Mail ran with a story discussing Jack Grealish and in particular his international future following news he had rejected a call up from Ireland to focus on his club`s relegation battle. Roy Hodgson, the England International manager has waded in to discuss the subject claiming Jack has been on the England radar for a while. The Aston Villa hot prospect can play for Ireland through his family heritage or for England, his place of birth.
"He's a very talented player," said the experienced England boss "He could play for either country. It's important we leave it to him."
Jack also has Aston Villa claret running though his blood with his great grandfather, Billy Garraty having won the cup with Villa back in 1905
Modest Benteke Praises Teammates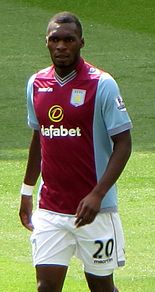 20/5/15 - In the local Birmingham Mail today there was a piece on Christian Benteke, he has been hailed as the Aston Villa saviour this year having scored 12 goals in 11 games since Tim Sherwood has taken over as manager but the modest front man is keen to share some of the credit with other team members.
Aston Villa may struggle to keep their star man this summer, especially if they don`t win the FA Cup and find a path into European competition, the in demand Belgian International is attracting interest from big clubs in the Premier League and abroad with Arsenal, Manchester United, Liverpool and Roma all credited with an interest
. Tim Sherwood will be desperate to keep hold of the fan favourite but he has shown loyalty in the past and Sherwood has said he would not stand in the players way should he wish to leave and the offer matches the blubs valuation.
Christian has been in deadly for since overcoming an injury prone season and is finishing with a flourish, but the gentle giant is full of praise for those in the supporting role, the article quotes him as saying `Everyone says Benteke is the guy who helped Villa survive but I donít forget that Fab and Tom (Delph /Cleverly) work so hard behind me, Because theyíre midfielders, maybe people donít see what they do.` The Belgian target man also had praise for his strike partner Gabriel Agbonlahor saying `The good partnership helps me a lot too`
Wherever Benteke is playing next year it is likely he will have the support of many Villa fans as he is a true gent of the game and a great player to watch.
---
Carew Continues Acting Career
The Mirror reported on one of our former favourite goal scorers, John Carew. The Norwegian giant striker scored 37 goals in 113 appearances during a four year stint at the Birmingham club during the tenure ship of Martin O Neill and fast became a Holte End hero with his all action performances in claret and blue and had his own anthemic chant set to the tune of Que Sera, Sera.
Having retired from football at 34 he was hungry for a new challenge and decided to do a Vinny Jones and pursue an acting career, he has already featured in one movie and is set to star in another in his native Norway.
Following on from his smaller role in Robert Dice`s `Dead of Winter` last year, he has landed a starring role playing a gangster in Norwegian production Hodvinger.
Carew told VGITV "It's a fun and interesting role. I would compare myself with Will Smith and 'The Rock', perhaps," It looks like Carew has confidence in his acting ability just as he did his football ability so we will be watching his career with interest from now on.
---
Villa and Arsenal Ticket allocation for the FA Cup final
10/5/15 - Many fans have reacted with anger as the FA Cup final ticket allocation has been released with each finalist receiving only 25,000 tickets each in a stadium which has a capacity of 90,000, leaving a massive 40,000 for commercial and competition winner allocation. More seat will be released closer to the final itself but the supply will most certainly meet the demand no matter what happens.